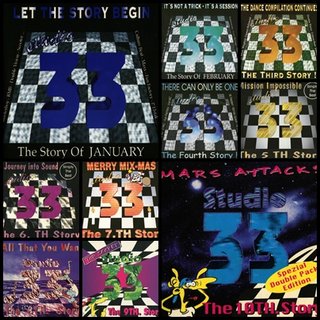 Let´s The Story Begin, Studio 33 The Story Of January. Der erste Teil der grossen Studio 33 Serie
(1996)
Dancestory:
Intro
Masterboy – Land Of Dreaming
Robert Miles – Children
Blizzard – It's Only Love
Double Vision – Knockin'
Shannon James – Far Away
Stanley Foort – You Make Me Believe In Magic
Magic Afiair- Energy Of Light
Squeezer- Scandy Randy
Culture Beat – Inside Out (Remix)
Bliss Team – Love ls Forever
Stricktly MOR – Long Long Nite
Dynamic Base – All Of My Life
Housestory:
Intro
Fun Factory – Doh Wah Diddy
Maxx – Move Your Body
Tinman – Gudvibe
Paris By Air – All Around The Sound
T.H.K. – So Big
No Sukkaz -1-2-3-4 All The Ladies On The Floor
Two Culture – (He's A) Dreamer
L.A. Switch – Kiss Me Baby
Double Dee – Found Love '96
Sweetbox – Shakalaka
Wildchild – Renegade Master
Mighty Dub Cats – Magic Carpet Ride
Time Zone – Imagination
Rodriguez – Revolution
Ravestory:
Intro
Moratto – Radar System
Cherry Coke – No Hages EI Cherokee
Nova – Feel lt
DJ Sammy feat. Carisma – Life ls Just A Game
Technohead – Headsex
Perplexer- Love ls In The Air
Eniac – My Way To Planet Love
DJ Paul Elstak – Don't Leave Me Alone
DJ Paul Elstak – Luv U More
RMB. – Passport To Heaven
Tom Knox vs. Steve – Vision Of Love
Scooter- Back In The U.K.
Deejay lntro 1
It´s Not A Trick – It´s A Session, Studio 33 The Story Of February 1996
(1996)
Dance Session:
Intro
K.O.'s feat. M. Buffer- Let's Get Ready To Rumble
Love Massage – Love Massage
Mark 'oh – TeII Me Why
Technotronic – I Want You By My Side
Outta Control – Tonight It's Partytime
Me & My – Baby Boy
Gilly B. – Tonight
DJ Panda – Dreaming Of Fantasy
Lisa Oakfield – La La La
Jill Dreski – This Is My Time
Indra – We Belong Together
Love Dove – Say You Want Me
Capella – I Need Your Love
Snap – Rame-Beloved
Groove Session:
Down Low- Don't Look Any Further
Skee-Lo – I Wish (Remix)
L.V. – Throw Your Hands Up
Coolio – Too Hot
Max-A-Million – Sexual Healing
Sir Prize – Love Is The Answer
Sonic Dream CoIIective – Oh Baby All
E-Rotic – HeIp Me Dr. Dick
Flip Da Scrip – Throw Ya Hands In The Air
Beat System – Fresh
Rave Session:
Music Instructor – Throw Your Hands In The Air
Megababe – Partytime
Fedi – Tell Me Why
General Base – Thank U (For Your Love)
C.O.R. feat. Mike Nova – Paradise
Aldus Haza – Noise Theme
2 Unlimited – Jump For Joy
Intermission – Miracle Of Love
Party AnimaIs – Have You Ever Been MeIIow?
UItrasonic – Make That Move
Shanin & Simon – Do The Right Thing
Dune – Rainbow To The Stars
Blümchen – Herz An Herz
The Dance Compilation Continues… Studio 33 The Third Story
(1996)
Dance Experience:
Money Penny – Natural Love
Zhi-Vago – Celebrate The Love
New System – Let Me Take
Los Del Rio – Macarena
T.H. Express – Missing In The Rain
Captain Hollywood – Over & Over
Culture Beat – Crying In The Rain
2 Fabiola – Lift U Up
Mr. John – Get lt On
Day Dream – Throught The Night
Captain Jack – Drill lnstructor
Double Vision – Allright
House Experience:
Dr. Alban – Born In Africa
B-Code – I Got A Love
Triple J. – Deep House
Whigfield – Sexy Eyes
D.F.S. – Ou Eee Ou
Black Nero – Ring My Bell
Phantomas – No Doubt About lt
F-Action – Let's Get Closer Baby
Tom Novy – I House U
Eskimos & Egypts – Welcome To The Future
400 Hz – I've Got The Music In Me
Max-A-Million – Everybody's Grooving
E. Sensual – You Should Be Dancing
J..J. Brothers – Move lt Up
Candy Girls – Wham Bam
L.D.C. – Each Generation
Rave Experience:
T-Spoon – A Part Of My Life
Interactive – We Are One
Blue Heart – Sing Song Rhyme
Raver's Nature – Somebody Scream
Sonic – (The Call Me) Sonic
Nakatomi – Free
2 Brothers On The 4th Floor- Fairytales
Scooter- Let Me Be YourValentine
Charly Lownoise & Mental Theo – Your Smile
Das Modul – Frühlingsgefühle
There Can Be Only One, Studio 33 The Fourth Story!
(1996)
Dancethema:
Ice MC – Give Me The Light
Gina – Just A Little Bit
Whigfield – I Want Love
Locura – EI Ritmo Da Fiesta
D.C. Mark – Baby Love
Me & My – Lion Eddie
Garden Eden – Lemon Tree
Diana's – You Are My Angel
Squeezer- Blue Jeans
U96 – Heaven
Imperio – Cyberdream
Housethema:
Intro
Streetnoise – Horse with No Name
Pet Shop Boys – Before
Carol Bailey – I Can't Make U Love Me
C-Block – Shake Dat A22
America – I Love America
Dee – Feeling Hm-Pa-Paa-Paaa
Adeva – I Thank You
Queen – You Don't Fool Me (Remix)
Con Colour – House T Up
S-Express – The Return Trip
D-Generator- Electronic Samba
Groovethema:
Michael Jackson – They Don't Care About Us
MC Lyte – Keep On, Keepin' On
2 Pac – California Love
Montell Jordan – Payback
Deborah Cox – Who Do U Love
Mark Morrison – Return OfThe Mack
Fun Factory – Don't Walk Away
Mr. President – Coco Jambo
George Michael – Fast Love
Scoop – Ladies Night
Coolio – 1 ' 2, 3, 4 (Sumpin' New)
Mission Impossible, Studio 33 The 5th Story
(1996)
Dance Mission:
Intro
Sarah – Loving You
Zhi-Vago – Dreamer
T.H. Express – Love 4 Liberty
Alexia – The Summer ls Crazy
Kikka – Could lt Be Love
U96 – A Night To Remember
Mr. President – I Give You My Heart
Radiorama – Like An Angel
Robin – Juliet
Imperio – Atlantis
House Mission:
Intro
No Mercy – Where Do You Go?
Umboza – Sunshine
Regina – Killing Me Softly
Candy Club – Let The Love Go On
Garcia – Vamonos
Los Del Rio – Maria
Livin Joy – Don't Stop Movin'
Bizz Nizz – Dabadabiaboo
Red 5 – Da Beat Goes
B.B.E. – Emmanuel Top
Sonic Surfer- Dance To The House
Farmhouse – No Control
Groove Mission:
Fugees – Ready Or Not
Ex-lt – Body Talk
Ron 'N Raz – Take A Ride
Sir Prize – Sing Along
Flip Da Scrip – You To Me
Eddy N. – Just Be Good To Me
Robin Cook – I Won't Let The Sun Go Down
Heath Hunter- Revolution In Paradise
Masterboy – Mister Feeling
Beat System – Reggae Night
A Journey Into Sound, Studio 33 The 6th Story
(1996)
Dance-Journey:
Masterboy – Show Me Colours
Worlds Apart – Je Te Done
Culture Beat – We Walk The Same Line
Nomansland – Seven Seconds
Free 2 Dance – Piece Of Heaven
DJ Bobo – Pray
D.C. Project – Mary's Prayer
Squeezer- Sweet Kisses
U96 – Venus In Chains
DJ Pierro – Another World
M.A.N. – Stay
Soarky – Follow Me
Captain Jack – Little Boy
Groove-Journey:
Down Low- Murder
Ghetto People – In The Ghetto
Hip Hop Alliance – Nothing Like Viva
Aleksey – Come Into My Life
Warren G. – What's Love Got To Do
Nas – IfI Ruled The World
2 Brothers On The 4th Floor- Mirror Of Love
C-Block – So Strong Out
Skee Lo – Holdin' On
Pete Anare – Flava
Sin 8 – TuffAct To Follow
Captain Hollywood – The Afterparty
House-Journey:
Danny Lee – (Here Comes The) Music
Stretch & Vem – I'm Alive
With lt Guys – Sweet Love
Marisa Turner – Deeper Is The Night
Lady Gee – The Game Is Over
Pearl – Kissing Like A Virgin
Technotronic – Pump Up The Jam '96
Soundlovers – Runaway
Galeria – The Geal (We Gotta Party)
Klubbheads – The Magner
Disconation – Kick Da Disconation
G-Spline – I'm Gonna Party
Faithless – Salva Mea
Merry Mix-Mas, Studio 33 The 7th Story
(1996)
Mix-Mas Intro
Dancefloor:
Dragana – Up & Down
J.A.M. feat. Natasha Wright – The Way To Your Heart
Arena – Brasilian Night
Alexia – Number One
Westbam – Born To Bang
Imperio – Return To Paradise
Daisy Dee – An Angel
Mr. John – It's Not Too Late
Intermission – Real Love
Rave-Ballads & Ballads:
Dune – Who Wants To Live Forever
Scooter- Break lt Up
Mark 'oh – The Right Way
Tic Tac Toe – Verpiss Dich
Funk & Soul & Reggae:
Nas – Afiirmative Action
Blackstreet – No Diggity
MC Lyte – Cold Rock A Party
Mr. President – Show Me The Way
Heath Hunter- Master & Servant
Mr. President – X-Mas Jambo
Backstreet Boys – Ouit Playing Games
N-Sync – I Want You Back
Party Jingle
Dancefloor:
Robert Miles – One & One
The Catch -25 Years '96
Captain Jack – Another One Bites The Dust
No Mercy – Please Don't Go
Amber- This ls Your Night
Whigfield – Gimme, Gimme
Gina G. – I Belong To You
Alexia – Number One
Vocal House:
Livin' Joy – Follow The Rules
Cymurai – Let Go
Central Bass – Waiting ForThe Summer
Dream House:
Groove Solution – Sweet Memories
Jeremy Healey – Stamp
Zoe S. – Keep On Jumping
House:
Lori Glori – Come Set Me Free
Three 'N' One – Reflect
DJ Supreme – Tha Wildstyle
Future Breeze – Why Don't You Dance with Me?
DJ Quicksilver- Bellissima
Magic Afiair – Bohemian Rhapsody
J. Daniel – To Eden
All That You Want, Studio 33 The 8th Story
(1997)
Intro
Kate Project – Heart & Soul
Armand Van Helden – The Funk Phenomena
C-Mania – Cross My Mind
Soundlovers – People
Mannequeen – I Feel Diva
Nick Beat – Bow Chi Bow
DJ Ouicksilver- I Have A Dream
Sequential One – My Love ls Hot
Red 5 – I Love You Stop!
Exit Way – Back To The Promised Land
DJ Positive – Rock Da House
Cupido – Historias De Amor
J.K. – Sweet Lady Night
Luna – You & I
Supertrip – Dolce Vita
J.A.M. In Deep – Bastard
Max Deejay – Rhythm ls A Dancer
DJ Schwede – Boom Boom
MR. – To France
2 For Good – You & Me
Zhi-Vago – with Or Without You
B.G. Prince Of Rap – Take Me Through The Night
Charly Lownoise & Mental Theo – Party
Hobo – Hoochie Coochie Man
Pandora – A Little Bit
Brooklyn Bounce – The Theme
A-Trax – Sweet Lullaby
Mary Kiani – 100%
DJ Liend ok.E.Y. – Mixing
Object One – Ping Pong
Welcome – Typhiko
Object One – Ping Pong
Masterboy – Just For You
Cyberbeat – Merkaba
Free – This Groove
Rexanthony – Capturing Matrix
Phantasia – Hold Me Now
Free – This Groove
DJ Paul Elstak – Unity
2 Brothers On The 4th Floor – There's A Key
Remix – Not Ready
No Doubt – Don't Speak
Kaleef- Golden Brown
Down Low- Potion
Nana – Darkman
LL Cool J – Ain't Nobody
DJ Bobo – Respect Yourself
Angel – Don't Tell Me Why
Blue System – Body To Body
Salt 'N Pepa – Champagne
Mola Adebisi – Shake That Body
Marky Mark – Hey DJ
DJ Bobo – Respect Yourself
Flip Da Scrip – Everybody Funk Now
Lorenza – And The Beat Goes On
Toni Braxton – Unbreak My Heart
Orange Juic – Never Gonna Lose
D. & G. – Music
DJ Malin – La Serenissima
Lisa Stansfield – People Hold On '97
Kaikoo – My Emotion
Rob Tissera – Kick Up The Volume
DJ's @ Work – Ballon-EI Globo
DJ Cook – Play My Track
Top Secret, Studio 33 The 9th Story
(1997)
Intro
Joosy – Indian Power
Mental Ground Zero – Tubular Bells
Radiorama – Cause The Night
DJ Ballon – Forfun
Dr. Kucho – Put The Needle On The Racket
Central Seven – The Opera
Toni Cottura – Da Party Boom
PC Groove Sensation – Across My Heart
Future Breeze – Keep The Fire Burning
MR. – Listen To Your Heart
DJ Maverick – Wrong ls Wright
Ian Lex – I Believe In You
Blizzard – Living In The Light
Nomansland – Fantasy
B.B.E. – Flash
Daniel Van Cock – Don't You Wanna Dance
Clueless – Don't Speak
Mercury J.D. – Belissimo
Marc Farris – Don't Leave Me This Way
Horny Hombress – Hossa
Libra – Dreaming Of You
Horny Hombress – Hossa
Magic Afiair – Break These Chains
Armand Van Helden – The Funk Phenomena
Madonna – Don't Cry For Me Argentina
Gala – Let A Boy Cry
Jimi Tenor- Take Me Baby
0190/566 – Paradise Telephone
Penny Lane – Sissy's Delight
Tori Amos – Professional Widow
Chicane – Offshore
C'Hantal – The Realm
General Base – On & On
X-Perience – Magic Fields
Real McCoy – One More Time
Pharao – Temple Of Love
Blackwood – Ride On The Rhythm
Vertigo – Oxygene
Face The Bass – Dominate
Pulsar- House Nation
DJ Schwede – Boom… Boom
DJ Maverick – Wrong ls Wright
Khaled – Aicha
Fugees – Rumble In The Jungle
Warren G. – I Shot The Sheriff
Helge Schneider- Fitze, Fitze, Fatze
Ofi' Da Hook – Ofi' Da Hook
Space Jam – Hit 'Em High
Ghetto People – Fever
Ring – Rhythm Of My Heart
Activate – Fall In Love with You
S.Y.A. – What's Your Face 2
Beat System – What's Going On
Mark Morrison – Horny
N-Sync – Tearin' Up My Heart
Pandera – Come To Me
Daft Punk – Da Funk
Fresh System – Down Under
Squeezer- Saturday Night
Mars Attacks, Studio 33 The 10th Story, Spezial Double Pack Edition
(1997)
CD Mars Attacks I:
Intro
Solar Base – Jeanny Return
Disco Nation – Rock Da Jam
Chumi DJ – Come Back Before You Leave
Glow- I Am Gonna Be
Le Click – Call Me
Brooklyn Bounce – Get Ready To Bounce
Disco Nation – Rock Da Jam
Kadoc – Rock The Bells
Dune – Nothing Compares To You
Morgana – When I Dream Of You
Parasonic – Power Of Love
Porn Kings – Amour
Joosy – Indian Power
Alis – Let lt Out
Reset feat. Danni – You Got The Key
Dirty Boys – Do lt WeII
Disco Citizens – Footprint
Dr. DJ Cerla – The DJ It's Saturday Night
DJ Ouicksilver- Free
Celine – All I Need ls Love
Imperio – Wings Of Love
Interactive – Wake Up
Flash Of Fantasy – Flash Of Fantasy
D.0.N.S. – Drop The Gun
Blackwood – My Love For You
The Course – Ain't Nobody
N-Trance – D.I.S.C.O.
Pet Shop Boys – A Red Letter Day
Amber- Colour Of Love
House Lizards – Check Out Da Bassline
Real Stuff- Club lt
Hyper Trophy – Just Come Back To Me
A-Trax – A Dream Within
Velvet – Show Me The Way
Modern Talking – You're My Heart, You're My Soul
Skanky – Where's My Money
Sash! – Ecuardor
Bossi – Funky Technican
U Me 2 – The Night
Tiggy – Ring-A-Ling
Hypnotic Beat – Funky Divas
Leroy & Eddie – Careless Whisper
Die Fantastischen Vier- Der Picknicker
Marcel Romanoff- I'd Love You To Want Me
Nana – Lonely
Double feature – Get Closer
Outkast – Atliens
Lisa Stansfield – The Real Thing
Spice Girls – Mama
Depeche Mode – It's No Good
2 Rufi- The Lover In You
Down Low- We Do lt Like That
PeterAndre – Natural
Funky Diamonds – I Know That You Want Me
CD Mars Attacks II:
Intro
Yve feat. Alexia – Virtual Reality
Libra – A Second Change
Sancocho – Tumba La Casa
Celvin Rotane – Theme from Magnum
Heartclub – Alone
Energy 52 – Cafe Del Mar '97
Space Junkies – Wippin'
House-O-Matic – Know What I Mean
Rollercoaster- Keep lt Goin'
The Difierence – Funny Walker
Red 5 – Lift Me Up
Shanin & Simon – The Rebel
Capella – Be My Baby
Yve feat. Alexia – Vitual Reality
Sequential One – I Wanna Make U…
Discomaniax – Rock The Disco
Sequential One – I Wanna Make U…
Sequential One – Get Down
Toss & Turn – Flexxible
DJ Starmax – Take Me To The Top
Trey D. – Higher & Higher
DJ The Crow- Piece Of Mine
Scooter- Fire (Remix)
Gorgeous – Don't Stop
Members Of Mayday – Sonic Empire
DJ Panda feat. Nadir- True Life
Linda M. – Rhythm Of Love
DJ Sammy feat. Carisma – Prince Of Love
Black Attack – Bang Bang
A.K. Swift – Light In Me
C-Block – Time ls Tikin' Away
Jam & Spoon – Kaleidoscope Skies
Blue Boy – Remember Me
Paul Lowe – We Love To Love
Papa Winnie – World Of Fantasy
Loft – Long John Silver
DJ Bobo – It's My Life
Sunrise – Open Your Eyes
Foxy Brown – I'll Be
2 Shy – U Give Me All I Need
Michael Jackson – Blood On The Dancefloor
N-Sync – Here We Go
The Boyz – Round & Round
The Docs – Another Bomb
Alternative Experience – All Around The World
Daft Punk – Around The World
Toni Braxton – I Don't Want To
Charlie Dors – Time Goes By
Kenny B. – The Promise You Made
Wang Chung – Dance Hall Days '97
Eternal – Don't You Love Me
Alex Party – Simple Things
DanielArmand – I Want You Back
Regina – Day By Day
2 Eivissa – Oh La La La
Plastic – The Secret Key Of Life
Bellini – Samba De Janeiro
PW: mixandremix