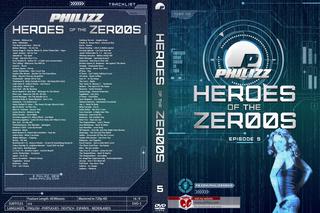 Eminem – Without Me
Kelis – Milkshake
The Black Eyed Peas – Shut Up
Robbie Williams – Sin Sin Sin
Snoop Dogg ft. Charlie Wilson & Justin Timberlake – Signs
Janet Jackson – All For You
Alphabeat – The Spell
Fergie – Big Girls Don't Cry
Elvis Presley ft. Junkie XL – A Little Less Conversation
The Calling – Wherever You Will Go
Amerie – Touch
Britney Spears – Circus
Justin Timberlake – Like I Love You
Sophie Ellis-Bextor – Murder On The Dancefloor
Mika – Big Girl (You Are Beautiful)
Frankmusik – Better Off As Two
Timbaland ft. Nelly Furtado & SoShy – Morning After Dark
Lady GaGa ft. Colby O'Donis – Just Dance
Lady GaGa – Poker Face
Sean Paul – We Be Burning
Kevin Rudolf ft. Rick Ross – Welcome To The World
Pixie Lott – Mama Do (Uh Oh, Uh Oh)
Dannii Minogue – Put The Needle On It
Pussycat Dolls ft. Busta Rhymes – Don't Cha
Anastacia – I'm Outta Love
Gwen Stefani ft. Akon – The Sweet Escape (Konvict Mix)
Iglu & Hartly – In This City
Akon ft. Eminem – Smack That
Lenny Kravitz – Believe In Me
Nelly Furtado – Say It Right
Christina Aguilera ft. Missy Elliott – Car Wash
Christina Aguilera – Come On Over Baby (All I Want Is You)
Bon Jovi – It's My Life
Timbaland pres. One Republic – Apologize
Destiny's Child – Lose My Breath
Madonna – Music
Mark Ronson ft. Daniel Merriweather – Stop Me
Linkin Park – What I've Done
Robbie Williams – Tripping
Ke$ha – TiK ToK
Bomfunk MC's ft. Jessica Folcker – (Crack It) Something Going On
Cobra Starship ft. Leighton Meester – Good Girls Go Bad
Lady GaGa – Bad Romance
LL Cool J ft. Jennifer Lopez – Control Myself
Justin Timberlake – Sexyback
Agnes – On & On
Marie Serneholt – I Need A House
Sugababes – Denial
Madonna – Jump
Five – Let's Dance
Emiliana Torrini – Jungle Drum
Estelle ft. Kanye West – American Boy
Darin – Desire
Ronan Keating – Life Is A Rollercoaster
Enrique Iglesias – Can You Hear Me
Justin Timberlake ft. T.I. – My Love
Whitney Houston – Million Dollar Bill
Kylie Minogue – Spinning Around
Anastacia – One Day In Your Life
Britney Spears ft. Madonna – Me Against The Music
Solange – Sandcastle Disco
Junior Senior – Move Your Feet
N*Sync – Pop
A*Teens – Can't Help Falling In Love
All Saints – Black Coffee
Sum 41 – In Too Deep
The Corrs – Radio
Tom Jones ft. Mousse T. – Sexbomb
Rednex – The Spirit Of The Hawk
Beyoncé – Sweet Dreams
Snoop Dogg – Sensual Seduction
Sugababes – Get Sexy
A*Teens – Floorfiller
Sean Kingston – Fire Burning
Vanessa Amorosi – Absolutely Everybody
Jay-J – Body To Body
Nelly Furtado – Forca
Audio Bullys – We Don't Care
Caro Emerald – A Night Like This
Madonna – American Pie
Madonna – Die Another Day
Peter Fox – Haus Am See
The Shapeshifters – Lola's Theme
Amy Winehouse – Back To Black
Sara Bareilles – Love Song
98 Degrees – Give Me Just One Night (Una Noche)
Röyksopp – The Girl And The Robot
Spiller – Groovejet (If This Ain't Love)
Sophie Ellis-Bextor – Get Over You
Madonna – Get Together
David Guetta – Just A Little More Love
The Black Eyed Peas – My Humps
Mika – We Are Golden
Taio Cruz ft. Luciana – Come On Girl
The Shapeshifters – Back To Basics
The Shapeshifters – Incredible
De Jeugd Van Tegenwoordig – Datvindjeleukhe
Alcazar – Don't You Want Me
Daft Punk – One More Time
Galleon – So I Begin
Galleon – I Believe
© Philizz, 2018.