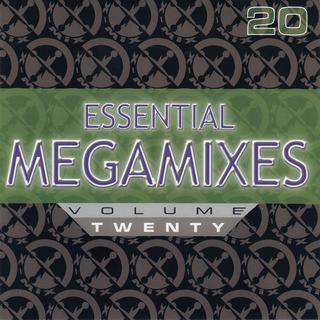 11
Donnie B's Trance-lfield 80 s Pop Megamix: gemixt von Donnie Bennett
Eddie Grant – Electric Avenue
DJ X feat. The Outfield – Use Your Love
Original 3 feat. Corey Hart – Sunglasses At Night 2002
Mad house – Like A Prayer
Hi-Speed – Tainted Love
Kim Carnes – Bette Davis Eyes
Mr. Mister – Broken Wings
Jan Wayne & Lena – Total Eclipse Of The Heart
DJ Sammy feat. Yanou & Do – Heaven
tHe KrUsH cReAtOrS bAcK-iN-tHe-Day bUfFeT: gemixt von Donnie Bennett & Joey
Tavares
Yarborough & Peoples – Don 't Stop The Music
S. O. S. Band – Just Be Good To Me
One Way – Cutie Pie
Tom Tom Club – Genius Of Love
Grand Master Flash & The Furious Five – The Message
Parliament – Flashlight
Sugarhill Gang – Rappers Delight
Chic – Good Times
The Ultimate 80 s Club Hits Megamix Part 1: gemixt von Donnie Bennett
Keith Sweat – Want Her
Jody Watley – Don't You Want Me
Janet Jackson – The Pleasure Principle
Lisa Lisa & Cult Jam – I Wonder If I Take You Home
Madonna – Holiday
Redlight's House-Of-Elvis Megamix: gemixt von DJ Redlight
Elvis – Burning Love
Elvis – Viva Las Vegas
Elvis – All Shook Up
Club Classics Disco-House Preview: gemixt von Ryan Foley
Michael Jackson – Billie Jean
Mary Jane Girls – In My House
Bee Gees – You Should Be Dancing
Brothers Johnson – Stomp
Donna Summer – Heaven Knows
Tavares – Heaven Must Be Missing An Angel
Heatwave – Groovline
Cheryl Lynn – Star Love
12
DJ Redlight's Mobile Party Megamix:
The Commodores – Brick House
Wild Cherry – Play That Funky Music
Cheryl Lynn – Got To Be Real
Sister Sledge – We Are Family
The 90 s Power Hits Megamix:
Montell Jordan – This Is How We Do It
Wrecks-N-Effect – Rumpshaker
Digital Underground – The Humpty Dance
Snap! – The Power
Rob Base & DJ E-Z Rock – Joy & Pain
C&C Music Factory – Gonna Make You Sweat (Everybody Dance Now)
The Electric Slide & Glide Megamix:
Marcia Griffiths – Electric Boogie
Four Seasons – December 1963 (Oh What A Night)
Bee Gees – Stayin' Alive
Christina Aguilera, Mya & Pink – Lady Marmalade
Donnie B 's Electric Boogie (Break Dance) Megamix:
Afrika Bambaataa & The Soul Sonic Force
RUN-DMC
Newcleus
Melle Mel & The Furious Five
Man Parrish
Herbie Hancock
Strafe
Hashim
Jonzun Crew
Planet Patrol
Cybotron
Awesome Foursome
Midnight Star
Kraftwerk
The Kings Of Swing Megamix:
Cherry Poppin' Daddies – Zoot Suit Riot
Swingerhead – Pick Up The Phone
Brian Setzer Orchestra – Jump, Jive & Wail
Big Bad Voodoo Daddy – You, Me & The Bottle Makes Three
Big Bad Voodoo Daddy – Jumpin' Jack
13
Rock-N-Roll Flashback Medley Part 1:
The Knack – My Sharona
The Go-Go's – We've Got The Beat
Modem English – Melt With You
Devo – Whip It
The Romantics – What I Like About You
John Mellancamp – R.O.C.K. In The U.S.A.
Rock-N-Roll Flashback Medley Part 2:
ZZ Top – Give Me Some Lovin'
ZZ Top – Sharp Dressed Man
AC/DC – You Shook Me All Night Long
Rolling Stones – Brown Sugar
John Mellancamp – Hurt So Good
B. T. O. – Takin' Care of Business
Billy Idol – Mony, Mony
X-Tremely Dangerous Modem Rock Megamix:
The Verve – Bitter Sweet Symphony
Semisonic – Closing Time
Everything – Hooch
Beastie Boys – Intergalactic
Garbage – Push It
Swirl 360 – Hey Now Now
Crystal Method – Coming Back
Fatboy Slim – The Rockafella Skank
DJ Dupi's Modem X-Press Megamix:
Barenaked Ladies – Pinch Me
Vast – Free
(Hed) Planet Earth – Bartender
Fatboy Slim – Ya Mama
3 Doors Down – Kryptonite
Third Eye Blind – Never Let You Go
Dupont's Alternative Club Megamix:
Limp Bizkit – Nookie
Smash Mouth – All Star
Sugar Ray – Someday
Len – Steal My Sunshine
14
DJ Serg's Urban Rewind Megamix:
J-Kwon – Tipsy
Snoop Dogg – Drop It Like It's Hot
Cassidy & Mary J. Blige – I'm A Hustla
Terror Squad – Lean Back
Daddy Yankee – Gasolina
50 Cent – Candy Shop
Rihanna – Pon De Replay
Brooke Valentine – Girlfight
Wild Bills 2005 Urban X-Periment:
Baby Bash & Akon – Baby I'm Back
Mario – Let Me Love You
Will Smith – Switch
Rupee – Tempted To Touch
Gwen Stefani – Hollaback Girl
Usher – Caught Up
Ciara – 1,2 Step
Missy Elliot – Lose Control
Destiny's Child – Lose My Breath
Big City's R&B Mashups Megamix:
Alicia Keys – Karma vs. Superstition
Jay-Z & Linkin' Park – Numb vs. Encore
Christina Aguilera – Fighter vs. Bad Mamma Jamma
Eminem – Just Lose It vs. Billie Jean
Kelis – Milkshake vs. Billie Jean
Justin Timberlake – Cry Me A River vs. Gap Band
DJ Serg's AV8 Megamix:
Crooklyn Clan – The Franklinz
Crooklyn Clan – Let's Get I'll
Fatman Scoop feat. Crooklyn Clan – Handz Up
Crooklyn Clan – Ladyz
Fatman Scoop feat. Crooklyn Clan – Be Faithful
Sean Paul feat. Fatman Scoop – Get Busy
Fatman Scoop feat. Crooklyn Clan – It Takes Two
Timbaland feat. Fatman Scoop – Drop
15
The Halloween Megamix:
Michael Jackson – Thriller
Armand van Helden – Boogie Monster
Bobby Pickett – Monster Mash
Guissepe D – Halloween 2001
The Haunted House Of X:
Lenny B – Nightmare On 3rd Street
N-Joi – Bad Things
The Christmas Megamix:
Deck The Halls
The Little Drummer Boy
Do You Hear What I Hear
Joy To The World
New Year's Eve DJ Toolkit:
Auld Lang – Syne With 60 Second Intro
Lenny B – Auld Lang Syne
Whitney Houston – Heartbreak Hotel
Whitney Houston – It's Not Right (But It's OK)
Faith Evans – Mesmerized
Elvis Crespo – Suavemente
Auld Lang:
Auld Lang – Syne (Euro Mix) With 10 Second Countdown
16
CD 1:
The 96-97 Urban Rewind Medley:
Missy Elliot – Suppa Duppa Fly
Notorious B.I.G. – Hypnotize
Mariah Carey – Honey
Robyn – Do You Know (What It Takes)
Notorious B.I.G. – Mo Money Mo Problems
Foxy Brown – Big Bad Mama
Puff Daddy & Faith Evan – I'll Be Missing You
The Dudley T-Stop Mix:
Cypress Hill – Insane In The Brain
Johnny P. – Look Good
Ice Cube – Check Yo Self
Old To The New School Hip-Hip Megamix:
Notorious B. I. G. – Hypnotize
Notorious B. I. G. – Mo Money Mo Problems
Run D.M.C. – Sucker Mcs
Lil' Kim, Missy & Angie Martinez – Ladies Night
Will Smith – Men In Black
Patrice Rushen – Forget Me Nots
25 Years Of Run-DMC Megamix:
Run D. M. C. – My Adidas
Run D. M. C. – Down With The King
Run D. M. C. – Sucka Mcs
Run D. M. C. – Peter Piper
Run D. M. C. – Walk This Way
Run D. M. C. – It's Tricky
Run D. M. C. – It's Like That
CD 2:
Old School Hip-Hop Megamix:
Fat Boys – Human Beat Box
Whodini – Friends
Eric B. & Rakim – Eric B For President
Doug E Fresh feat. Slick Rick – The Show
UTFO – Roxanne, Roxanne
The Real Roxanne – The Real Roxanne
Slick Rick – Mona Lisa
Sugar Hill Gang – 8th Wonder
Roonie G's '96 R&B Megamix:
Toni Braxton – You're Makin' Me High
Aaliyah – If Your Girl Only Knew
112 – Only You
NAS – If I Ruled The World
LL Cool J – Doin' It
Busta Rhymes – Woo Hah (Got You In Check)
Puff Daddy – Can't Nobody Hold Me Down
MC Lyte – Cold Rock A Party
Urban's Most Wanted Old School Throwdown:
LL Cool J – I Can't Live Without My Radio
LL Cool J – Rock The Bells
Audio Two – Top Billin'
Run D. M. C. – Sucker Mcs
Run D. M. C. – Peter Piper
Slick Rick – Mona Lisa
Slick Rick – Children's Story
Eric B. & Rakim – Paid In Full
DJ Kool vs. Fatman Scoop – Let Me Clear My Throat
The X-Treme Hip-Hop Mix:
House Of Pain – Jump Around
Fu-Schnickens – La Schmoove
Pete Rock & CL Smooth – T.R.O.Y.
Armand s Buddah Baboons Megamix:
Armand van Helden – Hey Yah Hey
Armand van Helden – Word Up Doc
Armand van Helden – Hot Butter
Armand van Helden – Stick 'Em
17
Country Boozin' Megamix:
Garth Brooks – Friends In Low Places
Toby Keith – I Love This Bar
Jimmy Buffett – Why Don 't We Get Drunk
Alan Jackson feat. Jimmy Buffett – Five O'clock Somewhere
Big City's Line Dance Megamix:
Los Del Rio – Macarena
Marcia Griffiths – Electric Boogie
Mr. C The Slide Man – Cha Cha Slide
Rednex – Cotton Eye Joe
The Essential Mash-Up Megamix:
T-Pain vs. Umbrella – Buy U A Drank
Lil Wayne vs. Back That Azz Up Low – Lollipop
Black Eyed Peas vs. Push It – My Humps
Timbaland vs. Push It – The Way I Are
Leona Lewis vs. Mercy – Bleeding Love
Chris Brown vs. Better Off Alone – Forever
The Hoedown Throwdown Megamix:
Big & Rich – Save A Horse, Ride A Cowboy
Trace Adkins – Honkey Tonk Badonkadonk
Billy Ray Cyrus – Achy Breaky Heart
Tim McGraw – I Like It, I Love It
Brooks & Dunn – Boot Scootin' Boogie
Alan Jackson – Chattahoochie
The Grease Megamix:
John Travolta & Olivia Newton-John – You're The One That I Want
John Travolta – Greased Lightnin'
John Travolta & Olivia Newton-John – Summer Nights
Frankie Valli – Grease (Reprise)
18
Essential Motown Megamix Part 1:
The Temptations – Ain't Too Proud To Beg
Martha & The Vandellas – Dancin In The Street
Four Tops – I Can't Help Myself (Sugar Pie, Honey Bunch)
Marvin Gaye & Tammi Terrell – Ain't No Mountain High
Enough
Stevie Wonder – Uptight (Everything's Alright)
The Contours – Do You Love Me
Michael Jackson King Of Pop Megamix:
Michael Jackson – Don 't Stop Til You Get Enough
Michael Jackson – Smooth Criminal
Michael Jackson – Billie Jean
Michael Jackson – Thriller
Michael Jackson – Wanna Be Startin' Somethin'
Michael Jackson – P.Y.T.
Michael Jackson – Beat It
Bar Stool Rock Megamix:
Red Hot Chili Peppers – Dani California
Kid Rock – All Summer Long
Buckcherry – Crazy Bitch
Finger Eleven – Paralyzer
Franz Ferdinand – Take Me Out
The Killers – Somebody Told Me
The Essential Mash-Up Megamix Part 2:
Lady Gaga – Just Dance vs. Somebody's Watching Me & Don't Stop Believing
Black Eyed Peas – I Gotta Feeling vs. You Shook Me All Night Long & More Than A Feeling
Flo- Rida – Right Round vs. You Spin Me Round (Like A Record)
Britney Spears – If You Seek Amy vs. You Spin Me Round (Like A Record)
Kevin Rudolf – Let It Rock vs. Blue Monday
Kardinal Offishall – Dangerous vs. Glamorous & Time After Time
P!nk – Please Don't Leave Me vs. Glamorous & Time After Time
Mobile Madness Part 2:
Tone Loc – Wild Thing
Salt-N-Pepa – Push It
Nice N' Wild – Diamond Girl
19
The Beach Party Megamix:
Jan & Dean – Fun Fun Fun
The Beach Boys – Surfin' USA
Dick Dale & His Del-Tones – Misirlou
The Beach Boys – Surfin' Safari
The Surfaris – Wipe Out
The Beach Boys – Good Vibrations
Jan & Dean – Surf City
The Beach Boys – I Get Around
90s Backspin Bomb:
Blackstreet – No Diggity
Timbaland & Magoo – Luv 2 Luv U
112 feat. Notorious B.I.G. & Ma$e – Only You (Remix)
Next – Too Close
Mark Morrison – Return Of The Mack
Montell Jordan – This Is How We Do It
Fatman Scoop – Be Faithful
The Essential Mash-Up Megamix Part 3:
Taio Cruz – Dynamite vs. Just Dance In My Head
Jason Derulo – In My Head vs. Break Your Heart
Usher – DJ Got Us Failin' In Love vs. Dangerous
B. O. B feat. Bruno Mars – Nothin' On You vs. DJ Got Us Failin' In Love
Katy Perry feat. Snoop Dogg – California Gurls vs. Tik Tok
Ke$ha – Tik Tok Tik Tok vs. Love At First Sight
The Rock Anthem Megamix:
Def Leppard – Pour Some Sugar On Me
Joan Jett & The Blackhearts – I Love Rock N' Roll
Journey – Don 't Stop Believing
Bon Jovi – Livin' On A Prayer
Guns N' Roses – Sweet Child O' Mine
Eddie Money – Take Me Home Tonight
Latin House Of "X":
Ralphi Rosario – Brinca
Armand van Helden – Cha Cha
C+C Music Factory – Robi-Rob's Boriqua Anthem
Sueno Latino – Visciosa
20
Rockin' Sock Hop Medley:
Ritchie Valens – La Bamba
Sam The Sham & The Pharoahs – Wooly Bully
Chubby Checker – The Twist
Del Shannon – Runaway
Dion – Runaround Sue
The Champs – Tequila
Little Richard – Tutti Frutti
Elvis Presley – Blue Suede Shoes
The Rascals – Good Lovin'
The New Jack Throwback:
Tony! Toni! Tone! – It Feels Good
Bel Biv Devoe – Poison
Boyz II Men – Motownphilly
Johnny Gill – Rub You The Right Way
Kid 'N Play – Ain't Gonna Hurt Nobody
Heavy D & The Boyz – Is It Good To You
Bobby Brown – Humpin' Around
The Essential Mash-Up Megamix Part 4:
Adele – Rolling In The Deep vs. Crazy
Ke$ha – We R Who We R vs. Hello
Foster The People – Pumped Up Kicks vs. Hello
Cee Lo Green – Forget You vs. Club Can't Handle Me
Maroon 5 – Moves Like Jagger vs. Lady
Lmfao – Party Rock Anthem vs. Who Dat Girl
Katy Perry – Last Friday Night vs. When Love Takes Over
The Booty Bass-Quake Megamix:
Sir Mix-A-Lot – Baby Got Back
Ghost Town DJ's – My Boo
2 Live Crew – Hoochie Mama
Freak Nasty – Da Dip
Deuce – Daisy Dukes
69 Boyz – Tootsee Roll
DJ Taz – That's Right
Playa Poncho & L. A. Sno – Whatz Up, Whatz Up
The Big 80 s Alternative Megamix Part 2:
Baltimora – Tarzan Boy
Bananarama – Cruel Summer
Animotion – Obsession
Frankie Goes To Hollywood – Relax
Wang Chung – Everybody Have Fun Tonight
Duran Duran – Hungry Like The Wolf
Toni Basil – Mickey
A-Ha – Take On Me
General Public – Tenderness